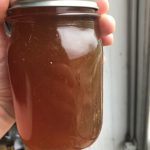 Straight from the hives on our farm, this honey is raw, unheated, and unfiltered so that you get every bit of goodness that the bees put into it.  We have five of our seven acres planted with native wildflowers and flowering trees, as well as our garden, so the bees are pollinating in a happily chemical-free area.
Widely considered to help with allergies, I do find that this honey helps with my health, including mental!  It is just so beautiful, delicious, and real.
This is priced by the ounce, so be sure to reflect the quantity you want in your cart.
Also available for shipping.  Contact me for a shipping estimate.