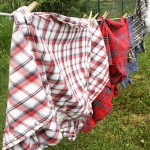 Hi, Alan here.  Flannel Dog Farm is named after two of my favorite things: dogs and flannel shirts.  It also reflects our approach to life: welcoming, hard working, warm, and interested.  We raise chickens, ducks, and bees, and we are a pollinator and bird sanctuary.  We have a large vegetable and flower garden, and four of our seven acres are filled with wildflowers and an emerging forest.  The farm is also home to Copper Leaf Studios, where Chris makes marvelous art from copper and zinc and hosts small business workshops.
We also host tent campers via Hipcamp, and we have a tiny house available too (with another on the way in 2023).    A farm-fresh breakfast is included.  We've also hosted a micro-wedding and would love to do more–reach out if you are looking for a place for an elopement or small wedding.
We are located in Saybrook, Ohio on Ninevah Road about 1 mile south of Lake Erie.  We are just a short drive from many area attractions including the many shops and restaurants in Ashtabula Harbor, the many wineries in Harpersfield, numerous orchards, Geneva-on-the-Lake, and the beautiful covered bridges of Ashtabula county.